Introduction
Our state-of-the-art supercomputer is scheduled to be launched in Japan around 2020. The FLAGSHIP 2020 project will incorporate the world's best computer simulation technology to be used for advanced scientific research as well as for solving challenging issues affecting society.
FLAGSHIP 2020 Project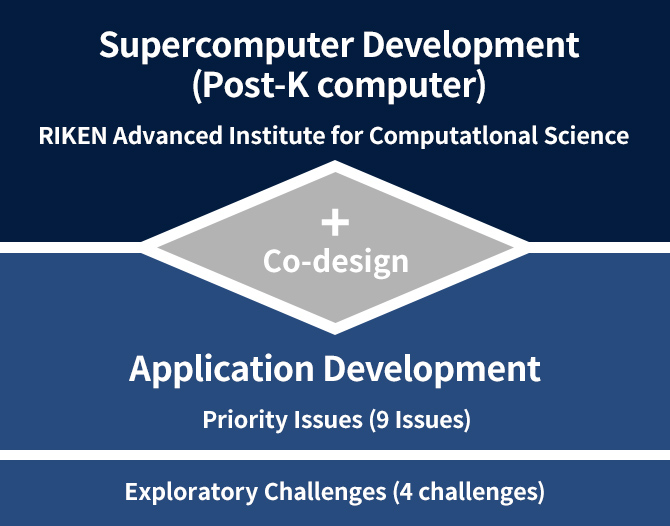 The project is backed by Japan's Ministry of Education, Culture, Sports, Science and Technology.
"Co-design" concept
The new supercomputer is being developed as a tool to solve challenging problems in many disciplines. To create a system that is both state-of-the-art and easy to use, developers and users have collaborated by designing hardware and applications at the same time ("co-design").
Focus areas
The K computer has already been instrumental in expanding certain fields of research. Use of the Post-K supercomputer will result in further expansion and pioneering of new areas. Nine priority issues have been selected for the new supercomputer. We will serve a leadership role in these areas by applying a more detailed simulation technology on a larger scale than is currently possible to help solve global issues. Japanese research institutes and universities in charge of the priority issues started their work in 2015 and are actively involved in creating a bright new future.
Developing the Post-K supercomputer
A supercomputer breaking new ground.
Simulation technology to change the world.
Message by Project Leader Ishikawa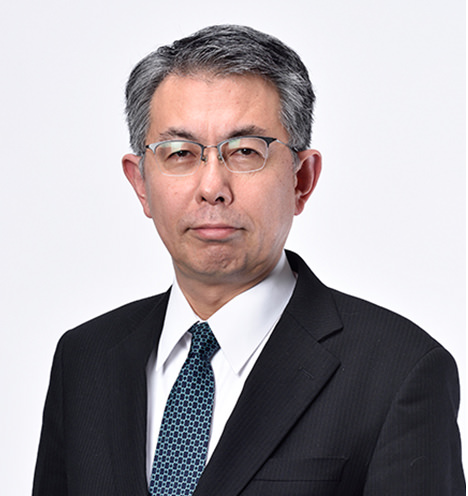 Dr. Yutaka Ishikawa, Project Leader
Development of Post-K supercomputer
The Post-K computer is being developed to help solve top-priority issues expected in the 2020s. With the completion of the Post-K computer, we expect that problems taking a year to solve on the current system will only take a few days on the new one. As a result, we will also be able to address a broader range of problems and make use of the new supercomputer in novel, innovative ways. The new system will become an essential tool for solving problems in the areas of bioscience, disaster prevention, environmental issues, energy, and manufacturing.
We face a number of technical challenges in creating the new system. In its development, we aim for a system that is highly productive and reliable, and which maintains a balance between performance and power consumption. To achieve this, we must develop both hardware and software that enable high application performance with low power consumption. We also need to build support software that makes it easy to create applications that take full advantage the Post-K computer's performance. The hardware we develop will use leading-edge advanced micro-fabrication processing technology and ensure that the Post-K computer maintains a high level of reliability and fault tolerance.
To start general use around 2020, we will be working to ensure that the system we develop will live up to expectations, and look forward to your continuing support and cooperation.
Project team of the Post-K supercomputer
Yutaka Ishikawa

Team Leader

System Software

Development Team

Developing system software for management and control of hardware and providing an optimal execution environment. We are promoting international collaborations.

Mitsuhisa Sato

Team Leader

Architecture

Development Team




Researching and developing a programming environment for supercomputers and designing the architecture of Post-K with our industrial partner.

Hirofumi Tomita

Team Leader

Application Development

Team

Addressing the co-design with the collaborating institutions by conducting the performance analysis and optimization of the target applications selected from nine priority issues.

Junichiro Makino

Team Leader

Co-Design Team




Aiming to maximize the performance of hardware and applications through our"co-design"concept. Conducting research on new algorithms.
Timeline