The 33rd International Symposium on Lattice Field Theory was held
at the Kobe International Conference Center, Kobe, Japan from
Tuesday, July 14 to Saturday, July 18, 2015.
The 376 participants came from all over the globe.

Lattice 2016 will be held in Southampton, July 24–30, 2016.
What's New
2015.07.03:
2015.06.27:
Final circular is out.
Program is announced.
2015.04.01:
2015.04.01:
Registration has started.
2nd circular is out.
2015.02.27:
2015.02.20:
Registration fee is announced.
Call for nominations for Kenneth Wilson Award
(deadline: April 5, 2015)
2015.02.06:
2015.02.06:
2015.02.06:
2015.02.06:
1st circular is out.
IAC members are announced.
Financial support is announced.
Visa information is announced.
2014.10.08:
Website is opened.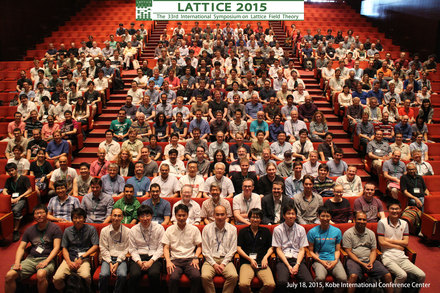 Conference Booklet:
pdf
Note: Changes after Jun 30 are not reflected in the booklet.
Welcome Reception:
July 13, 2015 from 6:00 p.m.
Kobe Animal Kingdom
Conference Opening:
July 14, 2015 from 9:00 a.m.
Kobe Int'l Conference Center
Banquet:
July 17, 2015 from 6:30 p.m.
Kobe Portopia Hotel
Conference Closing:
July 18, 2015 from 4:30 p.m.
Kobe Int'l Conference Center